Prevent Summer Learning Loss
May: Preventing Summer Learning Loss
After achieving in school all year long, some students actually slide back during the summer months, losing important math and reading skills.
Fortunately, families and caregivers have good options for supporting learning during the summer. High-quality summer learning programs have been shown to improve reading and math skills, school attachment, motivation and relationships with adults and peers.
May's edition of Power Parent Magazine highlighted quality summer learning opportunities you can take advantage of so your child doesn't lose the skills they worked hard to learn this year!
Power Parent: May 2021 covers each of the following articles:
What is the summer slide, and how can we prevent it? Find out in NEED TO DO: Stop the Slide!
Learn about what makes playtime so important in GOOD TO KNOW: The Power of Play
Find a list of today's top-rated online learning resources under SETTING GOALS: Get Techy
Under CHECK IT OUT: Daily Writing Prompts, find a list of journaling ideas to prompt your child to write and reflect this summer (as well as a special offer for any family who reads Power Parent Magazine this month!)
Look for updated information about local summer reading programs in NETWORKING FOR SUCCESS: Be a Book Worm
In NAVIGATING ACHIEVEMENT: Take a Trip, you'll find a list of virtual field trips that will allow your children to visit places around the world without ever leaving home

Find a fun list of card games that will keep your kids' math skills sharp in FAMILY CONVERSATIONS: Let's Play Cards!
Playtime: Not Just for Fun!
Playtime sometimes gets a bad reputation! Some might dismiss it as being "just for fun," but play is a critical activity for children of all ages as they grow and develop. For a child, play is a way to explore and learn, develop new skills, and connect with others. Through self-directed play, children can follow their interests, explore the unknown, link outcomes with choices, conquer their fears, and make friends.
Play also has important links to developing key skills that serve as a foundation for life-long success, including critical thinking, communication, problem solving, and collaboration.
You can discover more about a person in an hour of play than in a year of conversation."  – Plato
Did you know that playtime can make a positive impact on a child's health? Check out this video!
While the benefits of play are innumerable — play helps children develop cognitively, physically, socially, and emotionally — there is more to play than fun and games.
But how do children learn through play? Well, it's simple. Play allows children the chance to emulate what they see and practice skills. It gives them an outlet for creativity and experimentation, and play helps them learn how to interact and communicate with others.
Cognitive benefits
Play promotes healthy development and critical thinking skills. It reinforces memory, helps children understand cause and effect, and helps children explore the world — and their role in it.
Play also inspires children to pretend, create, and imagine. Creative, open-ended play helps children conceptualize, brainstorm, and exercise critical thinking skills.
In early childhood, play can stimulate brain development and creativity, improve communication and language development, promote impulse control and self-regulation, and much more. Check out this informative infographic from Parenting for Brain:
Physical benefits
Physically, play benefits children in a few ways, namely in the development of their fine and gross motor skills. Play benefits motor development by encouraging movement and the understanding of spatial relations, promoting motor planning skills, and supporting balance and dexterity. It also supports gross motor skills, such as energy, stamina, flexibility, and body awareness.
Examples of physical play include running, jumping, swimming, block building, dancing, riding bikes, and climbing trees. (When you're providing opportunities for these types of activities, remember key safety precautions — from bike helmets to pool supervision.)
Social benefits
Play is also important for social development because it helps children learn how to interact with others.
Through play, children develop an understanding of social expectations and rules, and play provides opportunities to share thoughts and ideas, to listen, and to compromise.
Play is also a great way for young children from different backgrounds to engage with others, sharing joyful experiences that build trust. By encouraging children to play with others from different backgrounds, we develop our children's social skills, tolerance, and instill in them a sense of understanding and enjoyment of other cultures. Hear Beth from the Boston Children's Museum further discuss the social benefits of playing with children from different diverse groups:
Emotional benefits
Additionally, play helps children understand and process their emotions. When a child loses a game, for example, they learn to process sadness, anger, and grief. Playing also helps build confidence and encourages the development of their identity and self-esteem. Through play, children can find endless ways to satisfy their curiosity. Working out difficult puzzles or games helps a child learn both patience and perseverance, and builds a child's sense of accomplishment and confidence. Social play promotes children's negotiation skills and supports emotional development. So encourage your children to play and get them started in the right direction down that path to success.
Where to play in Grand Rapids this summer
Online Learning Resources
There are so many online learning resources, that choosing the right one can feel overwhelming. The following is a list of recommended educational apps, online games and TV shows to get you started.
Ages 6 and under
Ages 7 to 10
Ages 11 to 13
Record your Summer in a Journal!
Summer is finally here! Families are enjoying the warm weather and slower pace of life. But summer can also be an enjoyable time to learn. Summer is prime memory-making season, and writing is a good way to encourage your children to record those memories and practice writing skills at the same time.
Here's a list of summer-themed writing prompts that are appropriate for children of almost any age (source: Life with LoveBugs):
1. What do you want to do the most this summer?
2. Take a walk outside, then write about what you experienced with your 5 senses.
3. What is the most interesting thing you learned about in school this year?
4. If you could go anywhere on vacation, where would you go? Why?
5. What are your favorite things to do outside during the summer?
6. July is National Ice Cream Month. If you could do anything to celebrate, what would you do?
7. If I were a butterfly, I would…
8. Imagine you are going to build the world's largest sandcastle. What would it look like? Who would you ask to help you?
9. If you were a tour guide for your city, where would you take visitors? Places, restaurants, parks, museums, etc.

10.Do you miss going to school during the summer? Why or why not?
11.Describe the perfect summer camp. What would you do? Where would it be?
12.You have been granted 3 wishes to make this summer the best ever, what do you wish for? Why?
13.If the power went out during summer, what would you do? How would you
stay cool? What would you do without tv/electronics?
14.Describe what life would be like if you lived on a deserted island.
15.If you were in the Summer Olympics, which sport(s) would you participate in? Why?
16.What would you do if you were trapped in a zoo overnight?
17.Plan the perfect picnic with your family and friends. Where would you go? What will you eat? Do you have activities planned?
18.What super power would make your summer better? Why?
19.You've been hired to build a water park. What will it look like? Describe the
rides, shows, food, etc.
20. When school starts again, what will you miss the most about summer?
Summer Reading Defeats Summer Learning Loss
Reading is like exercise for your child's brain! Just like exercising keeps muscles in shape, reading keeps the brain in shape. If you don't exercise, you lose muscle, and if you don't read, you will lose literacy skills. Studies show that children who don't read over the summer lose at least two months of reading development. This is often referred to as 'the summer slide' or 'summer learning loss.' On the other hand, students who do read over the summer may gain a month of proficiency in reading. Reading over the summer is not a suggestion to keep kids busy; it's a critical requirement to help students stay on track for their entire educational career and beyond.
We know that reading over the summer is important for maintaining a child's current grade level skills and for pushing forward to develop skills above the current grade level. But how can YOU, as a GRPS parent or caregiver, encourage your children to read over the summer?
Check out this list of awesome ideas!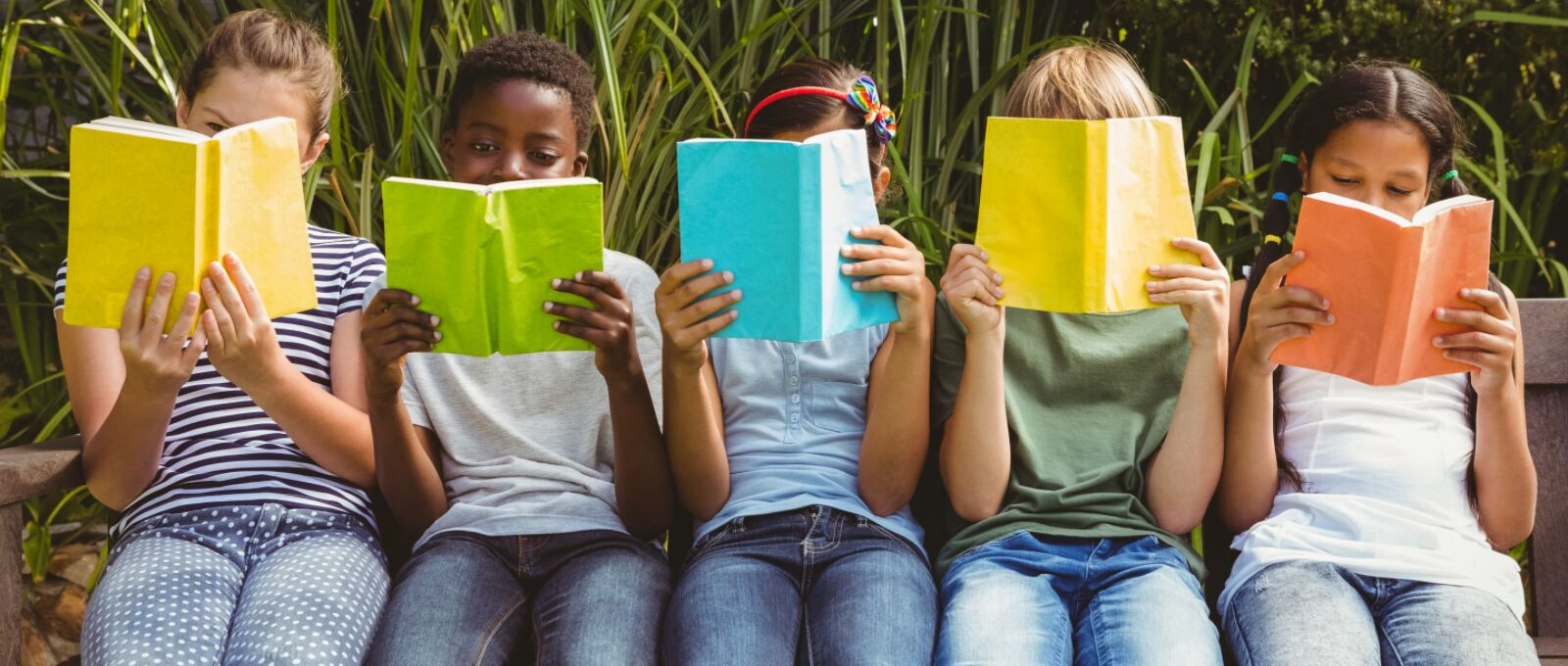 Join the club!
Did you know that your child can be rewarded by local businesses for reading during the summer? Check out the Grand Rapids Griffins' Summer Reading Rewards Program! This program rewards students who complete their local library's summer reading program with with two free tickets to a regular season game.
Follow this link to learn more! 

Schuler's Summer Reading Club is another awesome summer reading initiative that allows young readers to earn up to three $5.00 Schuler Books coupons! Children grades K-8 are invited to join. Click the link to learn more on their website!
How to Participate
1. Registration open May 31 – August 4.
2. Read a book from home, the library or bookstore.
3. Complete the form and bring it in to the Children's Desk, signed by a parent or guardian, from June 7 – August 31.
4. Earn up to three $5.00 coupons—one for each form completed.
---
Read-to-Me Club
Many of our young kindergarten and first graders don't yet read themselves. If you would like to read to your child, participate in the Read-to-Me Club by checking the box at the top of the form.
Read-to-Me participants earn 1 free book for completing each form instead of the Summer Reading Club Coupon.
---
Read a book over 200 pages? Count it as two books! Just write "extra credit" on the line underneath.
Visit the library!
Whether you're a patron of Grand Rapids Public Library or Kent District Library, your family has the chance to participate in a wonderful summer reading program and other related events.
Summer Wonder at KDL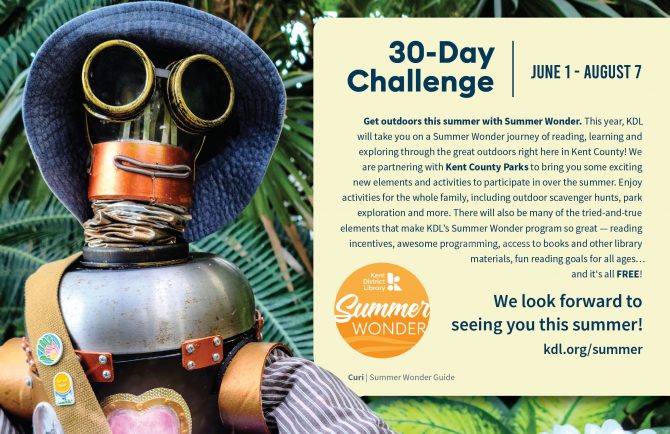 KDL partnered with Kent County Parks to put together Summer Wonder, a fun 30-Day Reading Challenge! Follow this link for additional details.
GRPL's Summer Reading Events
In the month of May and all throughout the summer, GRPL is planning some great socially-distanced events in local Grand Rapids parks:
Follow GRPL's Facebook page to find out about additional events taking place this summer!
Family Book Club!
Some kids find reading to be lonely. There are things that you can do to make it more social and fun for them. For instance, get your child and his/her friends to agree to read a particular book each month. Then have a get-together—perhaps a sleepover— at your house for the kids to share their favorite snacks and talk about the book.
Reading games!
Make reading feel like an adventure! Take your child to your local library or bookstore. Picking out a book can be just as much fun as reading one. Sign up for a library card and take advantage of summer reading programs at your local public library. Feeling extra adventurous? Try a reading-inspired field trip! For example, if you read a book about dinosaurs, plan a visit to a local museum to learn more about them. Or, if you read a book about flowers, visit a local botanical garden.
Regardless of how you decide to have fun with reading, you should definitely check out this awesome Summer Reading Bingo game:

Model that reading is fun!
Get caught reading! Children are known to model the actions of adults they love. When they see you enjoying a good book, they will follow your lead. Also, be a role model by reading aloud to your child no matter their age.
Don't forget to read for fun!
Encouraging children to read is critical to helping them stay on track with other students and retain information and literacy development over the summer break. If you're not sure what your children should be reading, there are a variety of reading lists available through sources such as Study.com. For instance, here are a variety of reading lists to choose from:
Don't forget to keep reading fun. The lists are just suggestions for summer reading. Give your child the opportunity to choose books on his own as well. This can help keep reading interesting and inviting. Reading over the summer is a necessity, but it should also be fun!
Explore the World from Home
Virtual field trips allow children to visit places around the world without ever leaving their homes! Through virtual field trips, your kids can visit other states, countries across the globe, and even other planets. This allows children to experience places they wouldn't get to see otherwise. Here are several free resources your family can use to take virtual field trips – enjoy!
Free Virtual Field Trip Printables
These printables provide a way for your children to record what they've learned on their virtual field trips.
Math Card Games
Math card games require no prep time and only a few simple supplies. Use them to practice math skills from basic counting all the way up to fractions and order of operations. These games are a sure bet!
1. Race to 100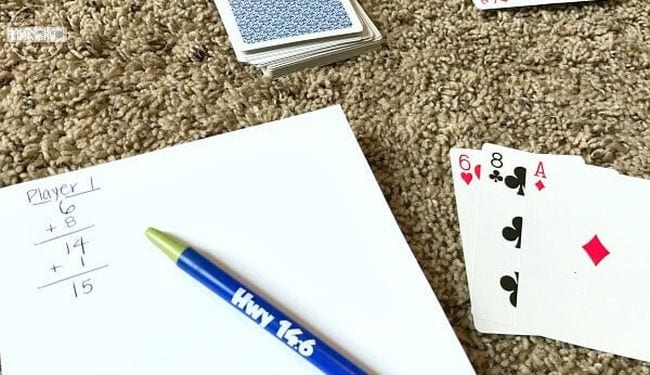 Flip a card and add its value to your running total. First person to reach 100 without going over wins! (Remove face cards for younger players; use these values for older kids: Jack-11, Queen-12, King-13, Ace-0.)  Learn more: 123Homeschool4Me 
2. Play pyramid solitaire alone or in teams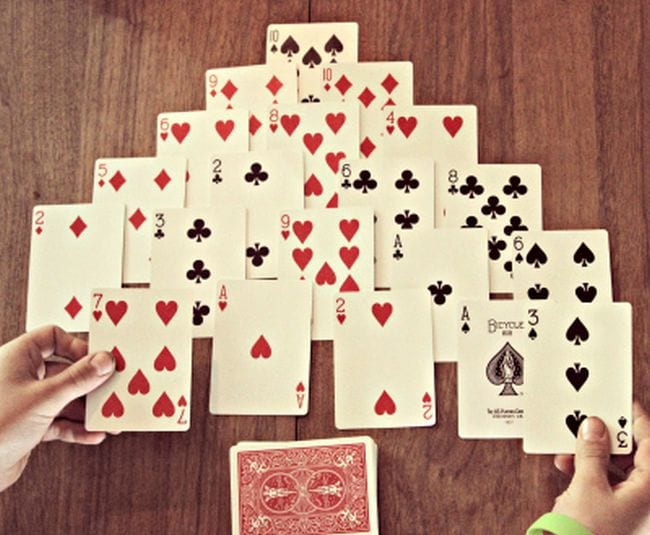 Some versions of solitaire are really just sneaky math card games, and pyramid is one of them. Try to find cards that add up to 10 as you clear your pyramid row by row. Learn how to play at the link below.  Learn more: Multiplication.com
3. Go fishing for pairs that make 10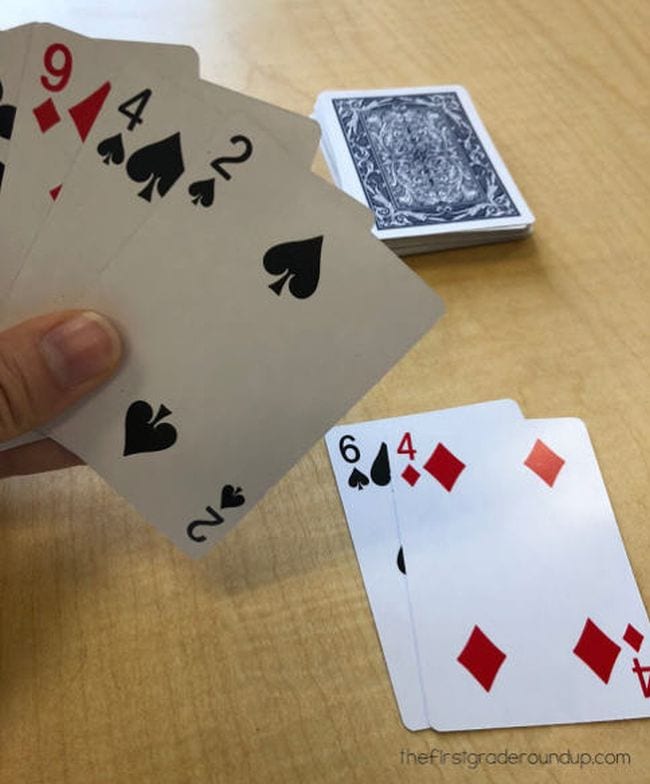 Your students probably already know how to play Go Fish, but in this version, they're fishing for pairs that add up to 10. Have them ask: "I have a 2. Do you have an 8 to make 10?" Change aces to 1 for this game and leave face cards out entirely.  Learn more: Mrs. Weigand's Mathematics Resources
4. Practice counting on with cards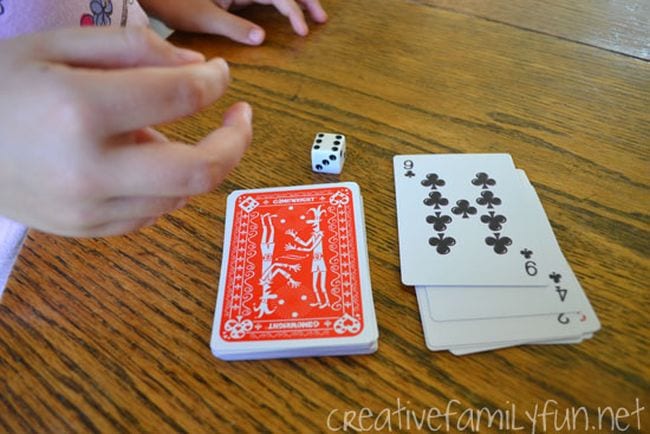 Remove the face cards for this one, and grab a die. Players flip a card and roll the die. Starting with the number on the card, they "count on" using the number on the die. For instance, if the player flips a 7 and rolls a 4, they would say, "Seven… eight, nine, ten, eleven." If they get it correct, they keep the card.  Learn more: Creative Family Fun
5. Try for a total of 10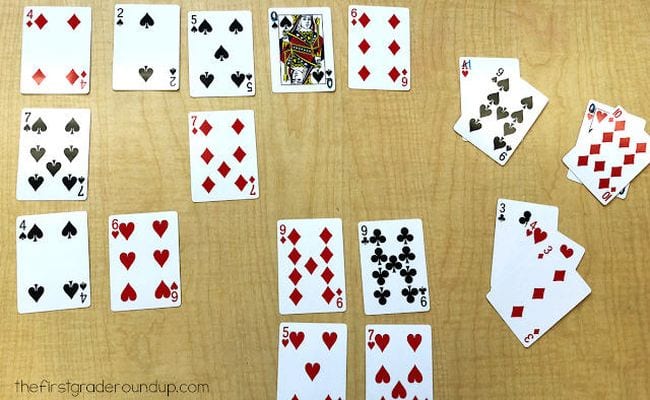 Play this math card game alone or as a team. Lay out 20 cards on the table (leave out face cards or change them to equal 0, while aces equal 1). Kids remove sets of cards that add up to 10, ultimately trying to remove all the cards from the table. It's harder than you think!  Learn more: The First Grade Roundup
6. Practice number sequencing with Builder's Paradise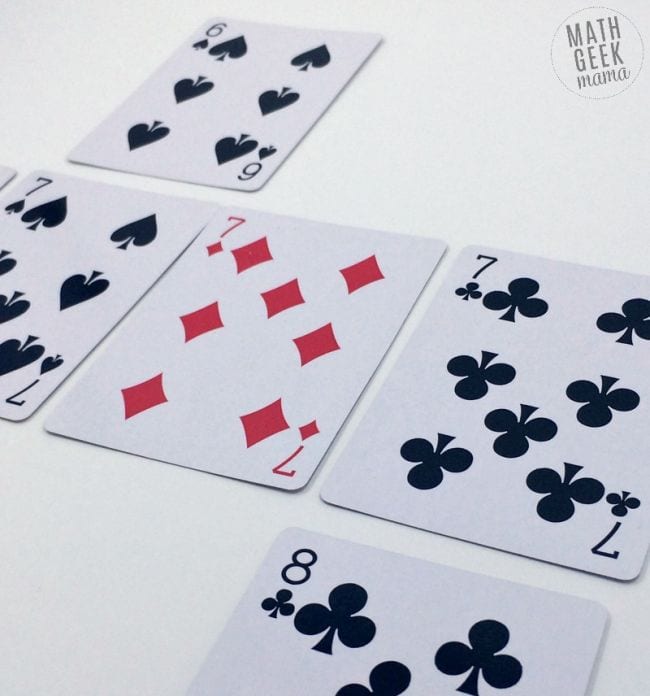 Simple math card games can help kids learn how to put numbers in order. To play builder's paradise, discard the face cards and lay out the 4 sevens in a deck side by side. In each round, players work to add the next higher or lower number in each suit, trying to be the first to get rid of all their cards. Get the full how-to at the link below.  Learn more: Math Geek Mama
7. Add decimals to Make a Buck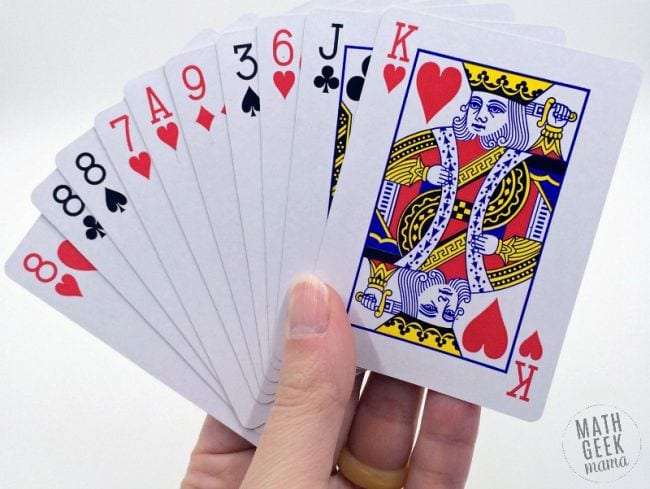 Draw, swap, and discard to make a hand that equals $1. Learn what face cards equal and get all the rules at the link.  Learn more: Math Geek Mama
8. Declare a fraction war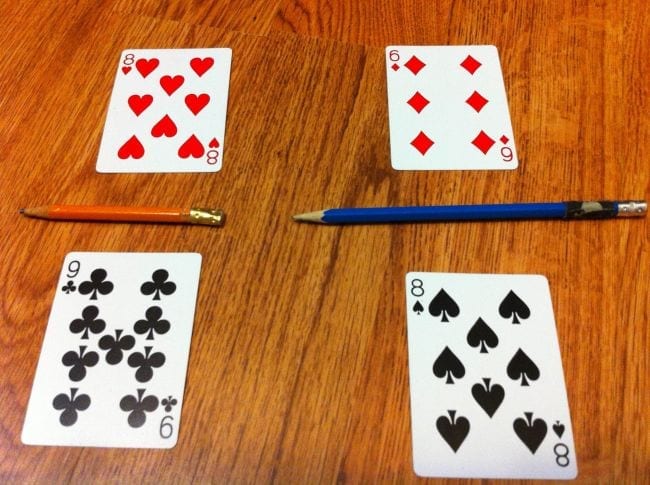 War is one of the original math card games, but this version adds a fraction aspect. Students deal two cards, a numerator and denominator, then determine whose fraction is the largest. The winner keeps all four cards, and play continues until the cards are gone. (Click here for more fun and free fraction games.)  Learn more: Mrs. Weigand's Mathematics Resources
9. Learn numbers with card bingo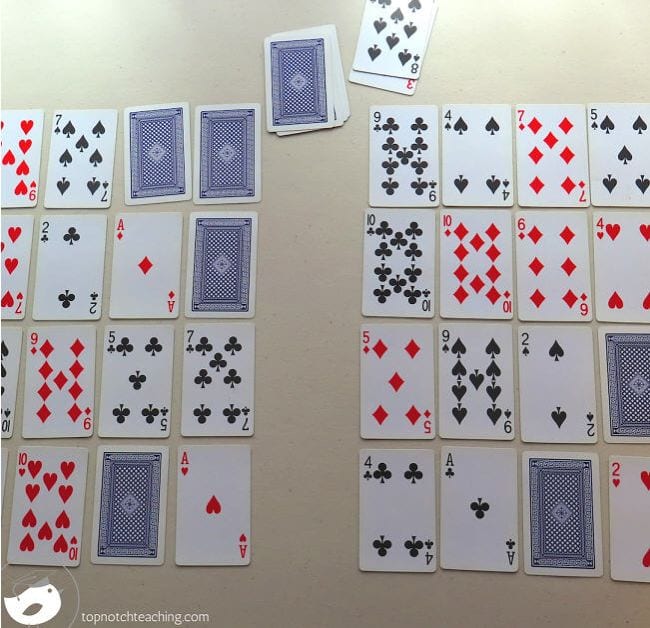 Remove the face cards and have each student lay out a 4 x 4 playing "board" of cards. The remaining cards (or another deck) are placed face down, and a caller flips over a card. Any player who has that number on their board turns the card face down. Play continues until one player has a row flipped over horizontally, vertically, or diagonally and calls "Bingo!"  Learn more: Top Notch Teaching
10. Play a game of "I Spy"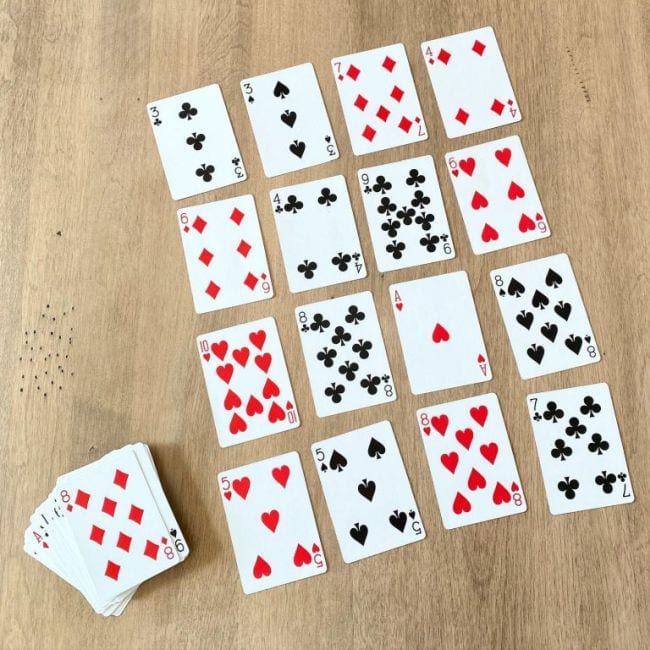 Lay out cards on the table, then take turns giving clues. "I spy two cards that add up to 12." Differentiate for younger kids with options like, "I spy a card that's less than 4," or for older ones: "I spy two cards that are factors of 12."  Learn more: Susan Jones' Teaching
To read more about academic transitions in May 2021's edition of Power Parent Magazine, please follow this link.